LUCKNOW: Chief Minister Yogi Adityanath said here on Monday that Memorandum of Understanding With South Korea was an important step towards strengthening bilateral cooperation. "The exchange of expertise in various fields and the promotion of mutual investment will contribute to the prosperity and progress of both regions," he added.
Welcoming the Korean delegation on Monday, CM said that both India and South Korea celebrate their Independence Days on the same day and share a very old relationship. He said that 2,000 years ago, the princess of Ayodhya, Sriratna, went to South Korea. There she married King Suro of Geumgwan Gaya and became known as Queen Ho. The symbol of Geumgwan Gaya and Lucknow, Ayodhya and neighboring areas are twin fish. The KM informed the delegates that the construction of the Queen Ho Memorial Park in Ayodhya had been completed.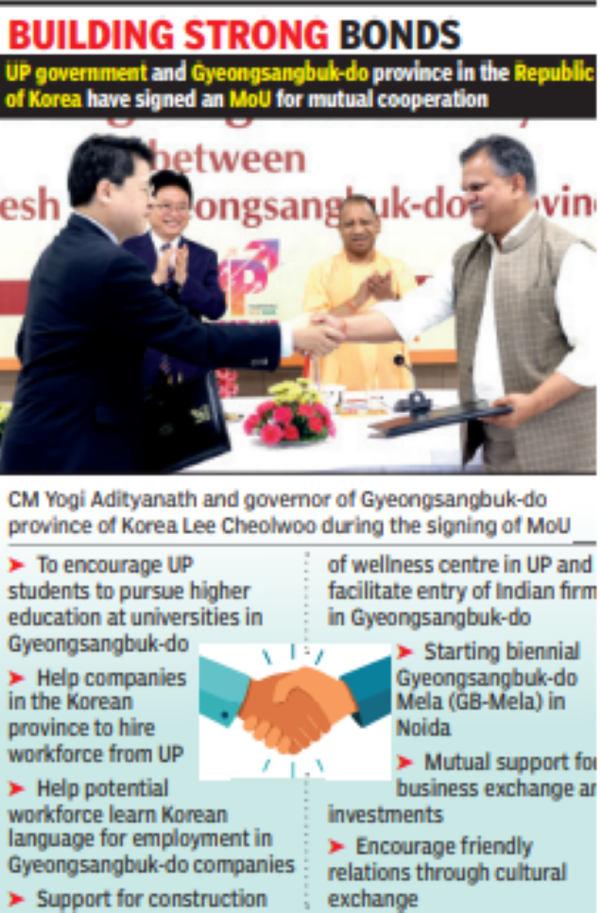 To deepen educational, economic and cultural ties between them, the UP government and South Korea's Gyeongsangbuk-do province signed a memorandum on Monday.
Both regions will also work together for their growth and development. The Korean delegation was led by the governor of Gyeongsangbuk-do province, Lee Cheolwoo. A Memorandum of Understanding was signed between the Director General of the Bureau of Economic and Industrial Affairs of Gyeongsangbuk-do Province, Lee Youngseok, and the UP Commissioner for Infrastructure and Industrial Development Manoj Kumar in the presence of CM
Referring to Prime Minister Narendra Modi's speech at the UN, Yogi said that many countries of the world have declared war on humanity, but Buddhists have deep respect for India. All important places like Sarnath, Shravasti, Kushinagar, Kapilvastu, Sankisa, Kaushambi associated with Lord Buddha are located in Uttar Pradesh.
He added that Kushinagar International Airport has become operational within the Buddhist District, increasing investment and employment opportunities in the sector. Soon Sravasti will be linked to air services. A government spokesman said the Memorandum of Understanding represents "an important milestone in strengthening bilateral cooperation" between Gyeongsangbuk-do province and UP.
He said that the exchange of expertise and the promotion of mutual investment will contribute to the prosperity and progress of Gyeongsangbuk-do and UP. In his speech, Governor Lee Cheolwoo expressed his gratitude to the UP government for its warm welcome and expressed his commitment to strengthening the relationship between Gyeongsangbuk-do and UP.
Yogi Adityanath also spoke about the importance of this partnership and its potential to create new avenues of development and cooperation between the two regions. Yogi said that world-renowned electronics companies, including Samsung and LG, are considered to have been born in the South Korean province of GB.
Similarly, Uttar Pradesh is the largest consumer center with a population of 250 million and is blessed with fertile Ganges plains and abundant natural resources. He added that today UP is rapidly moving towards a one trillion dollar economy. The head of government also hosted a dinner in honor of the South Korean guests.